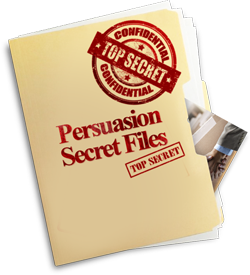 "Receive My Persuasion Secret Files (worth $47.00) for FREE and Discover The Secrets To Get People To Do Anything!"

Learn How to Change Minds & Feelings... Make Anyone Love You to Bits... Turn Fear into Excitement... Conquer Difficult People... Say the Right Words in Crucial Moments... Motivate Anyone to Work Faster and Better... and More!
* Your Email is completely confidential. I will NEVER share it with anyone and you can unsubscribe at anytime. I hate spam as much as you do! Your subscription also entitles you to receive other valuable self-help secrets, offers & advice to greatly improve your life.
Within the Persuasion Secret Files, you will discover:
| | |
| --- | --- |
| | 17 powerful ways to persuade people... including how to persuade using stories, get others to do tasks much faster, sell anything, handle difficult customers and annoying people, and more! (Email 1) |
| | Exactly what to say when a person criticizes you, when you have offended someone, and when you want to know what's really in their minds. (Email 2) |
| | How to use words to alter people's feelings, turn fear into excitement, turn weaknesses into strengths, motivate someone to perform better in their jobs, develop a magnetic charisma, get compliance, and more! (Email 3) |
| | 4 weird & effective ways to change anyone's belief, idea or opinion. (Email 4) |
| | And a HUGE surprise that will transform you into a true master persuader... |